With my creations I try to combine Italian history and craftsmanship, recreating the magic of the past.
If you love "Made in Italy" and you wish to have exclusive artisanal and creative treasured items for your home, I welcome you to my shop.
My name is Lorella Dia and I am an Italian designer and artisan. My atelier is based in Milan, Italy. I have always had a passion for antiques and vintage style, and as I was a young girl I used to collect small family heirlooms which were given to me by my grandmother. These items seemed imbued with a beauty and magic that I couldn't find elsewhere in my life. What I loved in them was not only the magic of the past, but also their artisanal quality and the craftsmanship behind each piece which were also telling me a bit of my country's history, and of its talented artists and artisans.
During the years, I realized that I enjoyed the process of hunting for just the right piece, finding unique items and also decorating some of them to transform them into treasuries that could not be found anywhere else.
Customers see "Made in Italy" as a guarantee of quality and Italian craftsmanship and I am so grateful to the many clients around the world who have given me the possibility to promote Italian creativity and excellence worldwide with original, mostly on-of-a-kind products for the home. In promoting "Made in Italy," I am also committed to building strong and vital relationships in our community, emphasizing the importance of sustainability. I hope that in the future my company can grow and I will be able to increase job opportunities within my country.
I am pleased to advise you on the choice of your treasured home items, as I specialize in custom-made home lighting and accessories, such as original tiebacks, which we can create together in order to provide you with the "perfect for you" home décor.
I put a lot of good energy and passion into every single step of the process.
From selecting the materials to working with clients throughout the entire transaction, including assistance during the shipping process, it is my wish and desire that everyone who receives my creations feel the passion and love that go into each and every one of them.
Lorella Dia provides the highest and best value available for sourcing, designing, restoring, and carefully delivering beautiful chandeliers. After repeated disappointments in the U. S. market, we were lucky enough to find Lorella Dia and her wonderful products on the internet. Hard to imagine a better interaction in developing our request, refining it, receiving photos of the options, and the care and detail associated with her deign, production and delivery. We coiuldn't have been more pleased with the final result that now graces our dining room.
G.Y. California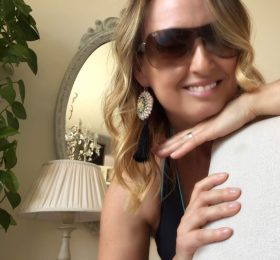 I'm Lorella, Italian artist and designer based in Milan. I constantly try to satisfy my customers working together with them in finding amazing pieces of art for their homes.
Putting my ability to discover valuable lightings and restore them to their original beauty is what makes me happy and proud of what I do.
Some of my Awards